Summer 2019 Update
June 26, 2019 ·

Jon Solo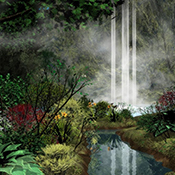 A year ago I decided to put a hold on my album to be entitled Touch the Sky. That was a good decision and not a result of ADD (which I think most musicians suffer from). Musically I have not stopped since then. There have been a number of commercial projects that have come my way and I wanted to do them justice and not be split between my personal musical journey and other things that had to get done (you know, pay the bills kind of thing). This does not mean I have not been writing music for personal albums.
Since there is so much I want to put into Touch the Sky, ideas that require time to see through, that project remains on hold. But my the rest of my music does not.
Back in late 2003 I was involved in a few cool "new" internet sites that encouraged writing music. One involved the commitment to write one song per month. Another was a site that encouraged an entire album in 24 hours! While writing a song a month is something that I could do without much worry, the latter idea intrigued me. To qualify the 24 hour album had certain criteria of which I cannot remember all of it. But it was something like it had to be at least 5 songs and play for 30 minutes or 10 songs and play for 20 minutes, and had to be written, recorded, and produced within 24 hours. Though I did not fully succeed, several attempts left me with a LOT of cool material to work with. One of those ended up being an album that I completed in just 7 days called The Forever Garden. Interestingly enough, many comment to me on that being one of their favorite albums I have ever done. While I enjoyed making the album, I always felt like it should have been more than what it was. Of course limiting myself to one week was a challenge that I wouldn't dare take on today and is likely the reason I feel the way I do about it. Still I always wanted to do more.
It is extremely weird to think of that album as being almost 16 years old. But with that thought, I had the idea to revisit the album and bring the ideas I had then to full fruition along with blending modern ideas and capabilities. This resulted in a new project that has a WHOLE lot of life to it: Return- The Forever Garden Reimagined*. So far it has been a blast going through the original tracks, and many unused tracks (which is really cool to try to remember what my thoughts were then) that were written the first week of December, 2003. In bringing in a few new ideas this new album is taking fantastic shape.
I will get back to Touch the Sky, really, there is much to do there, and it will be worth it. Until then, there IS new music on the way...
(*tentative title, subject to change)